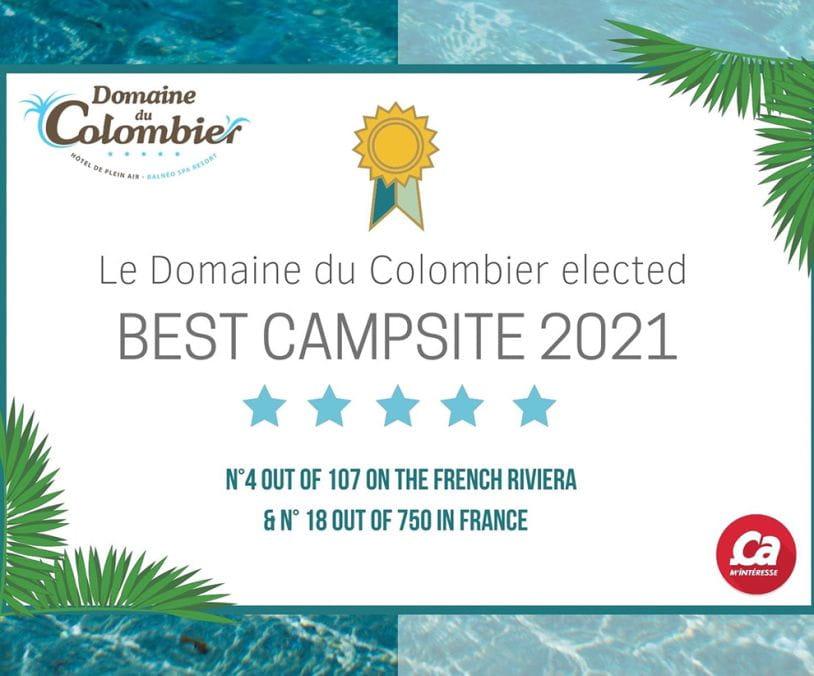 Domaine du Colombier elected Best Campsite in France 2021
A magnificent reward for exceptional sites
Which campsite hasn't dreamt of being recognised as the best campsite in France? We are very pleased and proud to announce that Domaine du Colombier is ranked among the Best Campsites in France 2021. A superb distinction, awarded by the magazine Ça M'intéresse in collaboration with the STATISTA research institute.
In February, in order to help holidaymakers find the ideal campsite, Ça M'intéresse magazine launched its annual ranking of favourite campsites for yachtsmen. In collaboration with the STATISTA research institute, the 750 best campsites in France were chosen from almost 10,000 establishments. French, British and German campers who have stayed in France were surveyed to establish this ranking.
Five criteria were used to compile the ranking:
the location of the campsite;
the quality of the infrastructure;
the service within the establishment;
the environment of the structure;
the quality/price ratio.
On the basis of this evaluation, a score out of 10 was calculated for each of the campsites. The 750 best establishments were ranked and the highest scores were awarded the distinction of Best Campsites 2021.
It is therefore with immense pride that we are ranked among the best facilities with a score of 9.31/10 and a ranking of 4th place as the best campsite in the PACA region, and 18th place out of 750 as the best campsite in France.
Thank you to all our teams and to all our holidaymakers for this nice award, which honours the importance that the Domaine has placed on customer satisfaction since 1963.
At the Domaine du Colombier, come and discover our latest innovations in accommodation and treat yourself to the best for your holiday!