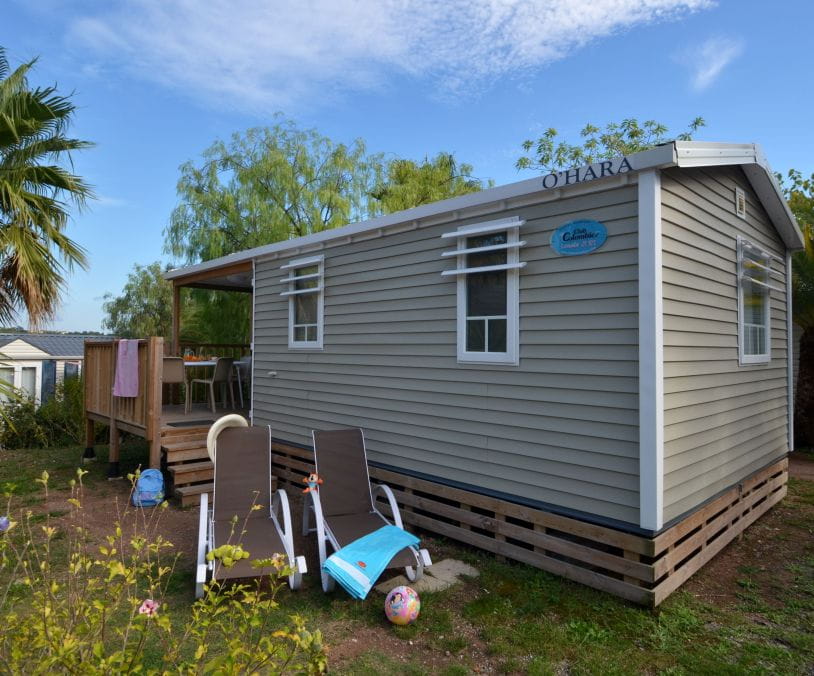 Game-contest, Heading for the Côte-d'Azur
Two one-week stays to be won
The Domaine du Colombier offers you your future holidays on the French Riviera
Imagine yourself on the Mediterranean, on the French Riviera: sun, pool, beach and cicada songs. Then, go to the Domaine du Colombier, a 5-star campsite, for a stay placed under the conviviality and serenity. Aquatic lagoon, balneo area, spa, restaurants, solarium and sports grounds, everything is there for you to spend a heavenly holiday.
This dream holiday is what we are offering you to win with our summer 2020 competition. By participating, try to win two seven-night stays at the Domaine, in our Loggia cottages. The first stay is for you and the second for your godchild. This will please the whole family, but also your godchild's family, who will also win a stay at Domaine du Colombier. Indeed, this year again, we have decided to spoil you with this exceptional competition.
The Loggia is "the" mobile home for a successful holiday in a 5-star campsite in the Var! Discover the originality of an integrated and covered terrace for your mobile home rental. A living room on the same level that opens onto the terrace provides a comfortable living space. This rental is equipped with a kitchen with all the necessary appliances. The parents' bedroom, equipped with a 160×200 bed, has a mosquito net in the window, as does the children's bedroom, which has two 80×190 beds. Different from other mobile homes by its structure and layout, the Loggia can be found just about everywhere in the Domaine: near the children's playgrounds, near the Balneo, near the Spa, near the aquatic area of the Lagoon?
Don't wait any longer! Participate in our competition and try your luck! All you have to do is answer the three questions about the Domain and fill in your contact details and your godchild's e-mail address.
We wish you all the best of luck. 🙂