Coronavirus Information
Well-being and safety at the heart of your stay in Fréjus
At Domaine du Colombier, the safety and health of our holidaymakers and our teams is our priority. We scrupulously apply all the directives and recommendations of the health authorities. You will find on this page, all the sanitary and hygiene safety measures put in place in our campsite, in Fréjus.
Here is some information about our opening hours:
During your stay, the curfew is maintained on the campsite:
9pm from the opening to 9 June;
11pm from 9 to 30 June
Coronavirus Protocols
Cleanliness, hygiene and cleaning at Domaine du Colombier
Yelloh! Village has drawn up a Covid-19 (Coronavirus) health charter for our campsites in collaboration with the Fédération Nationale de l'Hôtellerie de Plein Air (National Federation of Outdoor Hotels), following the recommendations of the Ministry of Health. At the Domaine du Colombier, our teams are trained in health standards and we provide them with all the protective equipment for the safety of all.
Our quality processes are based on 3 key phases:
– Preparing
– Realize
– Check
Involved and attentive, our teams follow the new sanitary protocols set up in our campsites: longer cleaning times, more points of vigilance, more visits during the day or more cleanings.
Barrier gestures to be respected
Compliance with social distancing measures
For your safety and that of our teams, the rules of life, places of passage, services and activities are adapted.
What are we putting in place?
– Simplified arrival procedures
– Maps and directions of traffic
– A marking on the ground
– Posting of good practices
– The provision of hydroalcoholic gel
– Listening and support by our teams in the essential gestures to adopt
Catering during your stay
Relax and enjoy our terraces
The terrace of our restaurant Panoramique will be open. The kitchen will be in operation until 8.15pm to ensure that the curfew is respected within the Domaine.
Our Snack-Glacier will also be open and will offer you its full menu until 9pm.
Our Take-Away service will be available until 9.30pm, so that you can make the most of our catering offer.
Our restaurant hall will open and our catering services will remain open until 11pm.
Animation at the Domaine du Colombier
Relax and have fun safely
The campsite activities will also be subject to health regulations. In the framework of the respect of the distanciations and the hygiene measures, at the Domaine du Colombier we adapt our animations.
The children's club will be open every day (except Saturday), from 9.30am to 12pm and from 3pm to 5.30pm. Two evening parties per week will also be organised (from 8.30 pm to 10.30 pm). Reservation is compulsory for the children's club, with a maximum of 30 children per half-day. All activities will take place outside. Hygiene instructions will be scrupulously respected, including disinfection at each use and temperature control on arrival and departure of the children. Masks must be worn in the children's club.
The teenagers' club will also be open (from July), every day (except Saturday), from 10am to 12pm and from 3pm to 5pm. Two evening parties per week will be organised (from 8.30pm to 10.30pm). Reservations will also be required for the teenagers' club, with a maximum of 15 teenagers per half-day.
For the adult activities, eight activities will be offered every day (except Saturday).
All our multi-sports fields will be open.
Daily evening entertainment will be offered on the Panoramique stage (in compliance with the curfew). You will find concerts, illusion shows, circus, dance … What a great way to spend your evenings during your stay in our campsite, in Fréjus.
The aquatic spaces of the campsite
At the opening and until official authorisation from the French government, the pools will unfortunately be closed, except for sports activities organised by the Domaine. Our teams will offer you several sessions of aquagym, aquazumba … During the day. Aquakids classes will also be offered.
Our solarium areas will also be closed.
Our lifeguards will be there to guide you.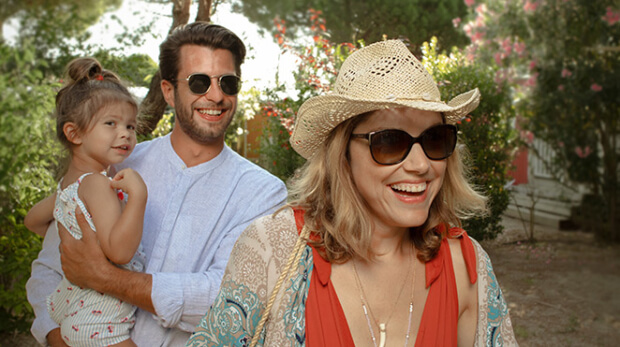 Le Colombier's living and leisure areas
Shops, Spa, terraces, bars and restaurants… the Domaine du Colombier does everything possible to ensure that you can enjoy your favourite places.
But here too, safety is essential: meticulous cleaning, distancing, guidance and displays. The areas will be reorganized so that you can enjoy your holidays without risk: enlarged spaces, reduced frequentation…
In all our living spaces, sanitary measures will be respected. With plans and directions of traffic, floor marking, display of good practices, provision of hydro-alcoholic gel, etc…
In order to preserve the health and safety of all our holidaymakers, exceptionally, this year we will not welcome outside visitors.
We had to take this decision in order to limit the number of visitors within the campsite. This is a strict measure, preventive in the context of the pandemic, which we will not be able to go back on.
The Shuttle service of the campsite
Regular transport within the Domain
The Shuttle service will be in place at the Domaine throughout this season. Safety measures will also be essential here, with systematic disinfection of the transport. For all our holidaymakers, as well as our teams, the wearing of masks will be compulsory on board the shuttle.
All of these measures will evolve according to current events and government decisions.
The measures put in place correspond to the application of :
the health charter for the outdoor hotel industry;
the recommendations of the High Council for Public Health.